Piano Lessons Gordon, Killara, East Killara, Roseville, Roseville Chase, St Ives
The European Piano Academy, which was originally established in Sydney by Illya Zozulya, is now expanding and adding up new locations in the suburbs of Sydney North Shore like Gordon, Killara, East Killara, Roseville, Roseville Chase, St Ives. The expansion has been undertaken so that piano classes are more accessible to the huge population residing in the suburbs. The suburbs provide the perfect setting and make the musical journey a pleasant experience.
We welcome you all to come and join the European Piano Academy to begin your musical journey with us!
The European and Russian Teaching Methodology
We understand that piano playing is not merely about the technique; rather, it is the right blend of the mind, body and soul that is needed to produce a beautiful musical composition. Thus, we implement a teaching technique that is a blend of the European and Russian teaching methodologies.
We aim to provide the best teachers to our students. That is why our teachers are individually selected by the pianist and our founder, Illya Zozulya. Our teachers at the suburbs in Gordon, Killara, East Killara, Roseville, Roseville Chase, St Ives are skilled and experienced professionals who pay equal attention to each student.
The unique teaching approach employed by us focuses on the simultaneous development of 3 vital aspects of playing the piano:
The Technique – The basis of piano playing involving finger strength, independence and agility.

The Mind – Improving sight-reading, focus, concentration, memory and listening skills.

The Emotions – Learning to involve the heart and soul while playing music to bring out the emotions behind a piece.
To read more about our teaching methods or our piano lessons, please click here.
Piano Lessons for All
Our piano lessons at Gordon, Killara, East Killara, Roseville, Roseville Chase, St Ives are available for kids and adults to provide them with the best learning opportunity. Our teachers are skilled and versatile in teaching students of any age group, ranging from kids to adults and from beginners to experienced players.
The kids who need to learn the basics of piano playing will find that our locations are the perfect learning place. The adults and the experienced players are also guided to develop their skills further and to delve deeper into the world of music.
Those who wish to learn to play the piano as a leisure activity can also avail our classes. Piano playing is known to eliminate anxieties and provide stress relief. It also helps in developing motor skills, memory and concentration.
We also provide professional private piano lessons to our students at the comfort of their homes.
Free Introductory Class
Throughout suburbs of Gordon, Killara, East Killara, Roseville, Roseville Chase, St Ives we offer a free introductory class to newcomers. This acts as an ice-breaker and also allows the teachers to assess the existing skills of the students. Following the assessment, the teachers draft a course for the students that will best assist them in achieving their goals. This schedule helps our teachers to ensure the overall development of each of our students so that they can realise their dreams. With regular practice, the students can pursue a career as a pianist if they put their heart into playing the piano.
Exam and Scholarship Support
We offer complete support to our students who wish to appear in various examinations. It gives us great pleasure to see our students at Gordon, Killara, East Killara, Roseville, Roseville Chase, St Ives achieve great results in AmusA, LmusA, AMEB Grade 1-8, Certificate of performance and High School examinations. We also support our students in preparing for scholarship examinations, competitions and for several performances.
Concert and Videos
Our talented students who do well in the classes get the opportunity to perform at our annual concert. The concert is held in a professional concert auditorium, in front of a live audience. This opportunity provides them valuable exposure, and the experience of performing live. Our concert videos are a source of inspiration for many piano aspirants. To watch the performance of our students, please click here.
We always encourage our students to watch videos of performances by legendary pianists like Zimmerman, Argerich and Pollini. This helps in the development of the 'inner' ear and enhances their listening skills. Listening to different performances also builds an understanding and appreciation of the different genres of music.
Our piano lessons serve as a gateway to the world of music and focus on developing a love for music.
You can avail a free introductory class by giving us a call on 0415 479 996;
You can email us at: [email protected]
Or click here to enrol online.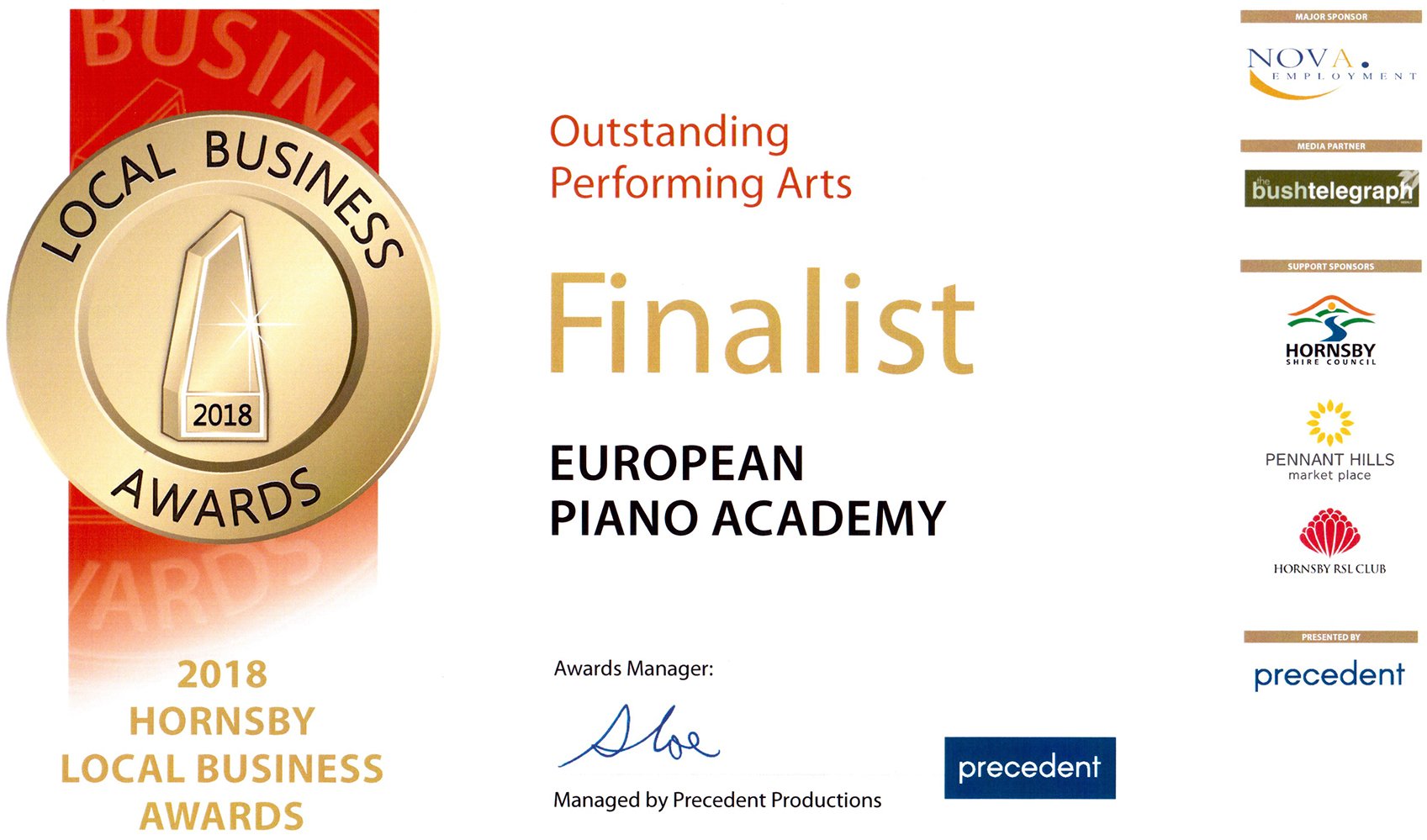 Our 2018 Outstanding Performing Arts Award

2020 Best Piano School – Eastern Australian States – Australian Enterprise Awards
See Illya Zozulya performing F. Chopin's Ballade No.1
See Illya Zozulya aged 15 performing Rachmaninov's piano concerto No.1