Piano Lessons in Sydney
European Piano Academy is a proud Finalist in the Outstanding Performing Arts category of Local Business Awards 2018.
We are a team of professional piano teachers offering piano lessons with a real difference by implementing unique teaching methods based on best traditions of the European piano schools.
Our students have the flexible choice of having their piano lessons at the comfort of their own home Sydney wide (one of our piano teachers can travel to your place for lessons) or at one of our main studios located in Thornleigh (Upper North Shore and Hills areas of Sydney), Strathfield, Burwood (Sydney Inner West) and Arcadia (Sydney Hills Area).
Our philosophy:
Music is an inspiring art and we approach our teaching process in the same way, making sure that all our students get personalised attention to all their needs and develop all the necessary skills in balance and harmony while staying motivated and having fun in the process.
Our music school believe that everyone has a gift and treat all our students as unique individuals by nurturing and developing their best artistic skills and qualities.
It is important for us that all our students feel that they are really cared for on a personal level – all our teachers are very motivated and enthusiastic to accomplish this challenging task.
Our mission and goals:
Our highest form of reward is when we see our students constantly improve and successfully achieve all their examinations, scholarships and performances goals along with enjoying using their new skills while sharing them with family, friends or in public concerts.
Our different European approach:
All our students develop their piano skills by working on the 3 fundamental areas of piano playing simultaneously:
1) Technique: developing fingers strength, agility and independence. Specially developed piano exercises and all other necessary technical work is given to every student according to the current level of progress.
2) Mind: developing the speed of reading and playing the music score; working on increasing attention span, focus, concentration and memory abilities.
3) Heart and soul: unlocking the creative side of every student through expressing feelings and emotions while playing the piano. Working on imagination and emotional contexts of music.
Learning to play the piano is a complex process that requires a continuous and balanced progress of all of the above mentioned skills.
Our students take piano lessons to accomplish the following goals:
Preparing for AMEB grades 1 to 8, Certificate of Performance, AMusA and LMusA exams;
High Schools Certificate exams;
Various scholarships, performances or competitions;
Learning for leisure and the pure fun of it – less demanding but in some cases more enjoyable when a student cannot commit to regular practicing schedule – which is the case with most adult learners or children who are very busy at schools.
Your are welcome to book your Free Introductory Piano Lesson:
We teach all levels and ages and offer a Free Introductory piano lesson where one of our skilled piano teachers will give you or child an assessment of the current level of skills, set the learning goals (preparing for exams, performances or learning for leisure) , tailor a personalised course of the future progress and work out a practicing plan and schedule required to achieve all the set goals in the shortest period of time possible.
Perform at our Yearly Piano Concert:
Most of our students get an opportunity to gain their performance skills through yearly concerts held in professional concert halls and on the finest piano brands.
To book your free Introductory Piano Lesson with one of our professional teachers in your local area of Sydney:
Please call: 0415 479 996
Email: info@europeanpianoacademy.com.au
Or make it even easier by

filling our online "Enrol Now" form and let us contact you asap.

We offer piano lessons at your place Sydney wide as well as in our studios located in the following suburbs:
Thornleigh (Sydney North Shore and Hills), Arcadia (Sydney Hills Area), Strathfield and Burwood (Sydney Inner West), Canley Vale, Kellyville, Spring Farm (Campbelltown), Rosebery (Sydney Eastern Suburbs), Glebe and Woodford (Blue Mountains).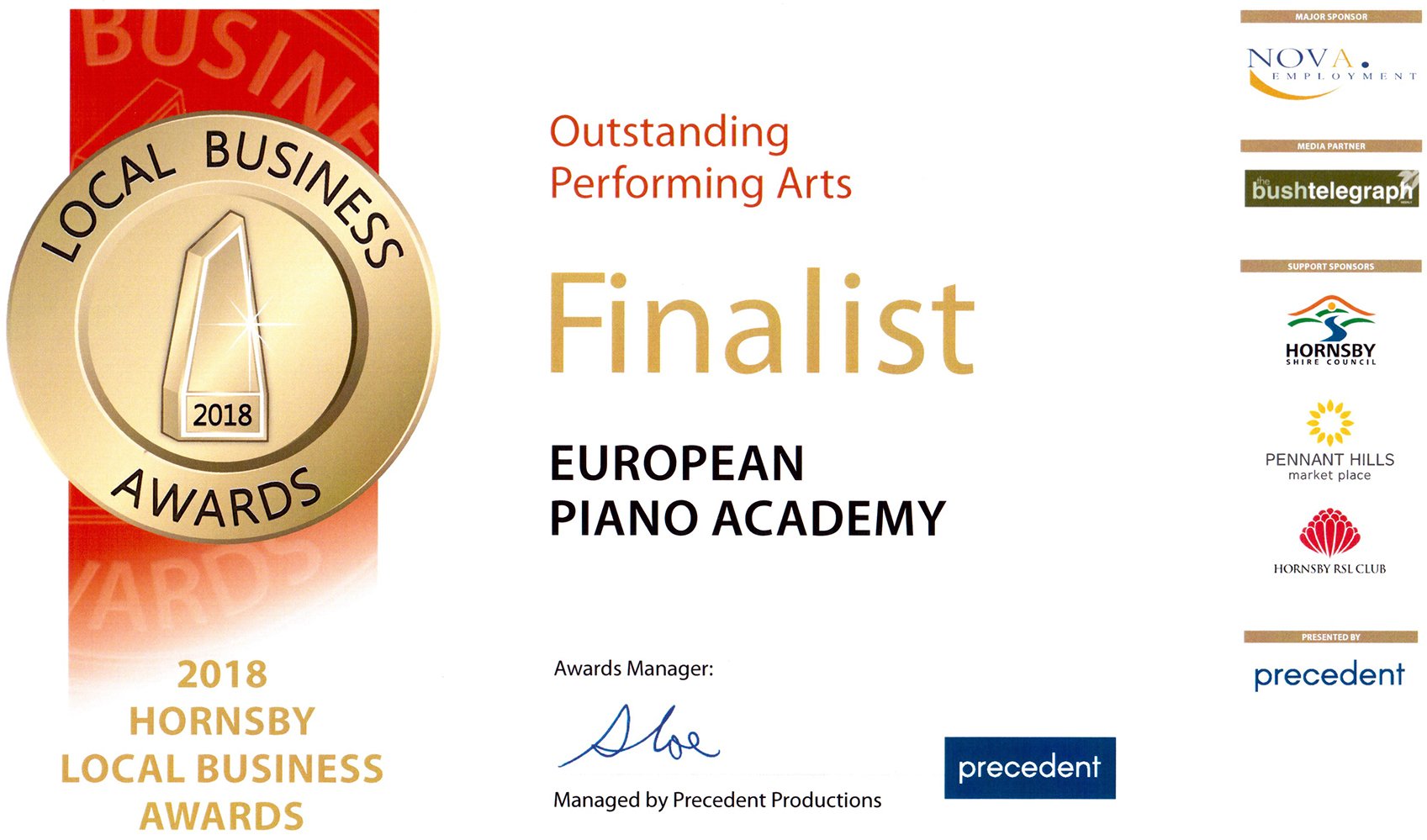 Our 2018 Outstanding Performing Arts Award
See Illya Zozulya performing F. Chopin's Ballade No.1
See Illya Zozulya aged 15 performing Rachmaninov's piano concerto No.1