Piano Lessons Payment and Attendance Policy
A note on Attendance:
While EPA provides professional piano lessons, we believe that students gain maximum results from learning with a sense of commitment, dedication and regular attendance at week by week lessons.
We conduct our piano lessons over the four terms of the year. Each term comprises of a certain number of weeks, corresponding to the public school system.
2020 Term dates:
Term 1 Monday, January 27th – Sunday, April 12th 11 weeks
Term 2 Monday, April 27th – Sunday, July 5th 10 weeks
Term 3 Monday, July 20th – Sunday, September 27th 10 weeks
Term 4 Monday, October 12th – Sunday, December 20th 10 weeks
Most of our students also continue their piano classes during school holidays if students and their piano teachers are not away as school holidays offer a good opportunity for students to improve their piano skills while not attending schools. School holidays lessons are added to the next term's invoice.
Note:
We do understand students at private schools may have different amount of weeks per term to ours. We don't want our students to miss any lessons and are happy to arrange a different time for those lessons missed. This must be with the agreement of your teacher. Please speak to your teacher in advance and do understand this must be arranged at times your teacher is available.
Our Fees
EPA charges students per term, not per lesson.
Each student will receive an invoice via email or in person from their teacher at the beginning of each term.
Fees for each term are to be paid within two weeks of receiving the invoice. If fees are not paid by the end of 2 weeks a late fee of 5% will be included in the following term.
Students commencing lessons during the term will be required to pay the fee from the starting week to the end of that term, based on the number of weeks remaining.
Fees may be paid by electronic transfer or cash. Payment details are on the EPA invoice.
Families of three or more students may ask for a payment plan. Please call 0415 479 996 or email [email protected] for more details.
Note:
For scheduling purposes the length of lessons agreed at the beginning of the term applies until the end of that term. Any variance should take effect from the following term. In this case we ask that you let your teacher know prior to the end of the term so they can schedule any changes accordingly.
Cancellations:
Because, like all other schools, our tuition is term-based, we do not offer credit for missed lessons. If a piano lesson has to be cancelled due to unforeseen circumstances, we do try to make it up within the term or next holiday, the teacher's time permitting. We require more than 24 hours notice and no later than 6pm the day before the lesson.
If a teacher has to cancel a lesson, they are required to give you 24 hours notice, and schedule an alternate time to suit you. If this is not possible please contact our office.
Changing teacher or discontinuing lessons:
If there is a desire to change a piano teacher please contact our office. We will arrange another teacher for you commencing the following term.
Please let us know should you wish to discontinue your piano lessons at the end of the term.
Who to contact:
If you wish to reschedule a lesson this should be arranged directly with your piano teacher.
The same applies if you need to cancel a lesson on the day, as the EPA office can't guarantee to pass on a message at such short notice. Please keep your teacher's contact number handy.
For all billing, concerns, and other information about EPA please contact our office on 0415 479 996 or email us at: [email protected]
Office hours are from 9am to 5pm from Monday to Friday.
We are happy to receive your feedback and appreciate communication during the year which alerts us to any issues and helps us to improve our services.
Welcome and enjoy your lessons with European Piano Academy!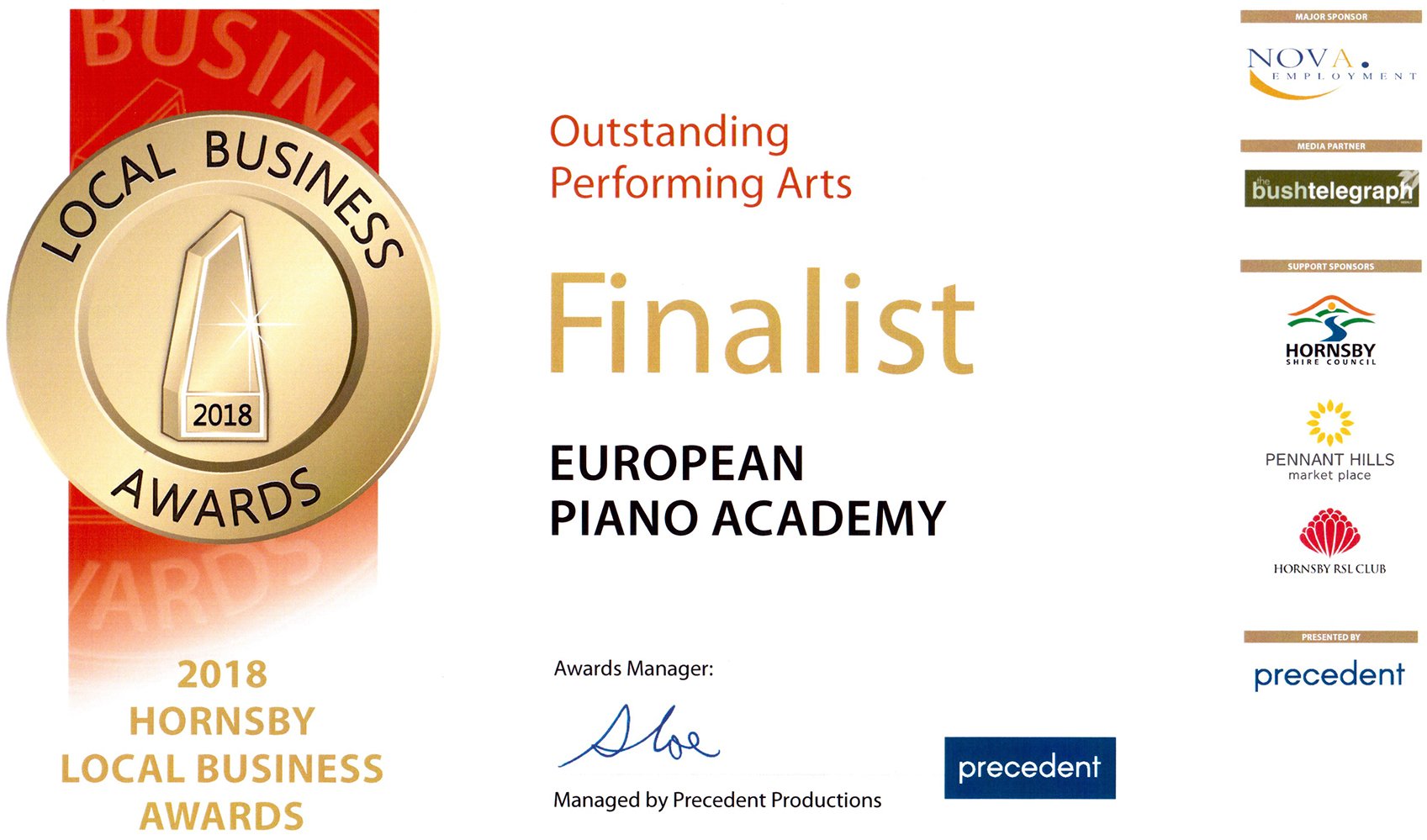 Our 2018 Outstanding Performing Arts Award

2020 Best Piano School – Eastern Australian States – Australian Enterprise Awards