Piano Lessons

B

risbane
Piano Lessons Brisbane is a family-owned and operated business. It is the exclusive provider of Learn To Play Music classes in Brisbane.The suburbs of Brisbane have always been ranked high among the country's top cultural spots, having a mixture of art and music since the early 1900s. With this in mind, the European Piano Academy is now offering piano lessons in the suburbs of Brisbane in an effort to enrich people in the nearby vicinity to contribute towards art and culture.
Welcome to join our classes in Brisbane and nourish your mind and soul through the wonderful power of music.
European and Russian Styles of Piano Playing
The European Piano Academy recognises the diversity of musical tastes that can exist among different individuals from varied backgrounds. Founder Illya Zozulya who is a professional pianist in his own right, personally handpicks the piano teachers for various locations in Brisbane, after ensuring that they have proper professional experiences. Our Brisbane piano teachers put emphasis on encouraging students to learn different musical styles and appreciate varied genres of music.
For this reason, we, at European Piano Academy implement both the European as well as Russian methodologies of playing the piano. 3 key areas of a student's learning and development are covered:
Heart — playing the Piano Lessons Brisbane from the heart and soul.

Mind — memory, sight-reading, listening and concentration

Piano playing techniques – developing sound piano technique
We do not solely focus on teaching the techniques of playing the piano, we rather encourage our students to play the instrument based on their emotions. To know more about our unique piano teaching techniques, click here.
Piano Lessons Brisbane for Kids, Beginners, Adults and Experienced Adults
All our locations in Brisbane are not restricted to only children. We offer different types of classes based on the age group of applicants. So if you want to pick up on learning the piano lessons Brisbane in your adulthood or retirement, separate classes will be arranged.
Schedules are based primarily on careful evaluation of an applicant's age as well as existing level of piano lessons Brisbane playing. Students are then segregated according to age of students. Classes for novice students usually concentrate more on sight reading as well as cognition of the keys. Experienced adults on the other hand are given advanced lessons to explore the rich world of music.
Many studies have found that there is a direct link between playing the piano lessons Brisbane and experiencing memory and concentration improvements, as well as better motor skills.
Free Introductory Classes
The European Piano Academy offers an introductory piano class to all newcomers who want to join our piano school. Their existing levels of expertise are then measured for future reference. Instructors then use this information to schedule training accordingly. All students are paid attention to individually by the instructors, in a way as to motivate the students to reach their goals.
Teachers who offer piano lessons Brisbane wide aim to find and nurture the individual skills of budding pianists, encouraging them to follow their dreams and get better at playing this instrument.
Exam and Scholarship Support
For students who wish to pursue advanced careers in music and appear in examinations such as LmusA, AmusA, AMEB Grade 1-8, Certificate of Performance, and High School exams, proper guidance and support is provided from our end.
Individually tailored Piano Lessons Brisbane are provided at our locations around Brisbane by our professional piano teachers who encourage students to have a balanced progress towards achieving their goals.
You can join our free introductory piano lessons Brisbane simply by calling us on 0415 479 996.
Contact us by email: [email protected]
Or click here to enrol online.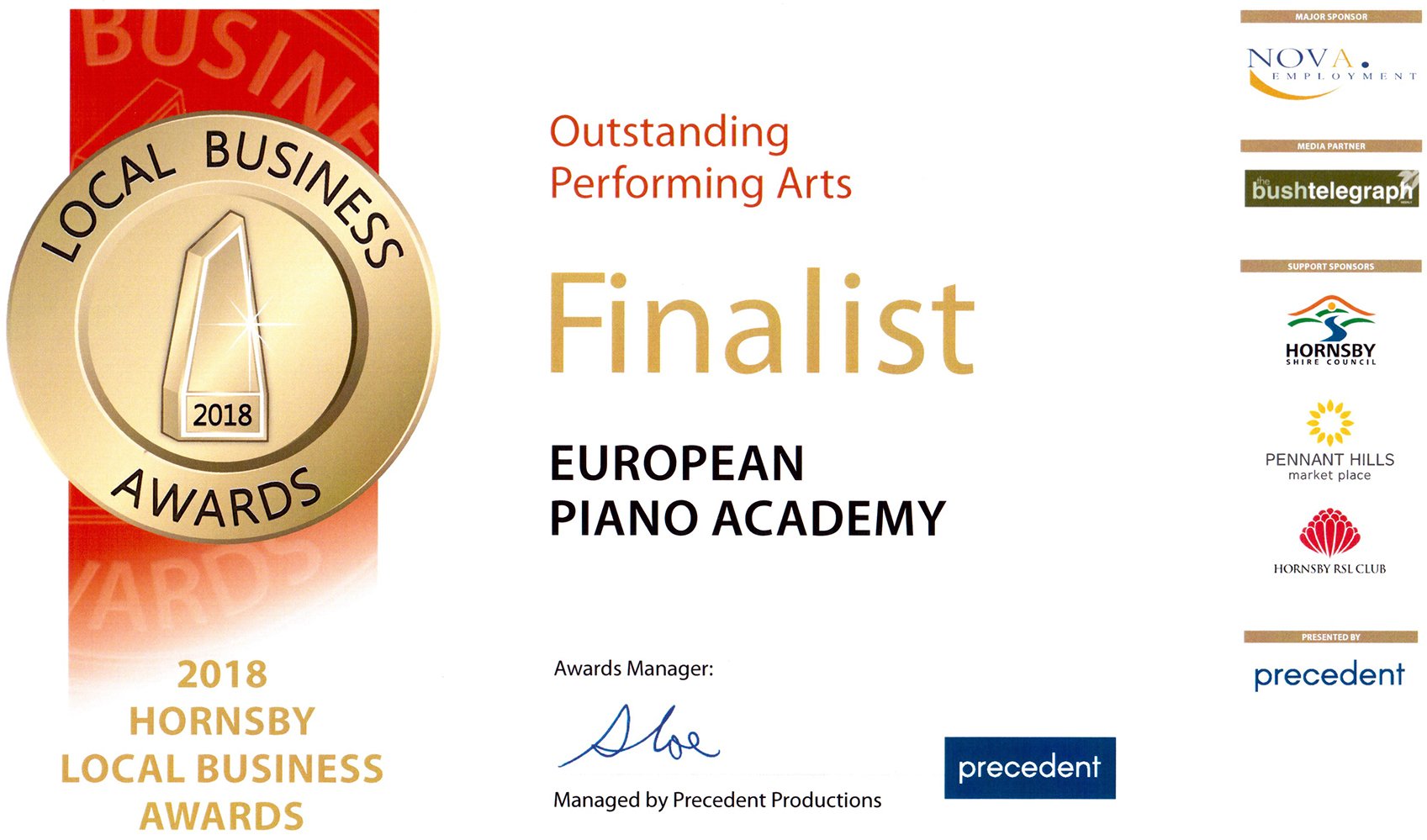 Our 2018 Outstanding Performing Arts Award

2020 Best Piano School – Eastern Australian States – Australian Enterprise Awards
See Illya Zozulya performing F. Chopin's Ballade No.1
See Illya Zozulya aged 15 performing Rachmaninov's piano concerto No.1