European Piano Academy Now Offers Piano Lessons at Strathfield, Strathfiels South, Summer Hill, Sydenham, Tempe, and Wareemba
The suburbs of Inner West Sydney present excellent residential opportunities. The European Piano Academy has now extended its coverage in the suburbs to make piano lessons more accessible to those who wish to learn. To witness our musical world, enrol for lessons with our piano teachers in Strathfield South, Summer Hill, Sydenham, Tempe, and Wareemba.
Embarking with us on this musical journey, you will be able to consider a potential career in piano playing. Playing the piano also helps in relieving stress. Furthermore, dedicated piano playing and regular practice is known to improve memory and concentration levels, enhancing the overall development of kids.
The European Approach To Piano Lessons:
Our piano teachers at the European Piano Academy have been chosen by the professional pianist and our founder, Illya Zozulya. In Strathfield, Strathfield South, Summer Hill, Sydenham, Tempe, and Wareemba, our skilled and experienced piano teachers aim for the overall development of the students. They employ a teaching method that is a blend of the European and Russian piano teaching methodologies.
At our Academy, the students are taught to play the piano, integrating their emotions with their musical notes. We believe that expression through music is possible only by tuning the mind, body and soul. Thus, our unique approach is focused on the development of these three aspects, including:
Perfecting the technicalities of playing the piano;

Disciplining the mind for perfect finger coordination, note reading and listening skills.

Playing with the heart and soul to express emotions through the music.
Our lesson plans are devised by the teachers to offer the best possible routine to the students. They pay individual attention to each student to nourish their skills and abilities and bring out the best in them. To know more about our teaching methodologies, please click here.
Our Students:
Knowledge and learning are not bound by age or experience. This is why we offer piano classes for all ages, and for kids, adults, beginners and experienced players. To facilitate comfortable learning, we have segregated our classes based on the unique requirements of different ages and the level of skills of our students.
For kids and beginners, our lessons are aimed at imparting the basics of piano playing. On the other hand, our lessons help the experienced players in developing their skills and delving deeper into the world of music. Regardless of whether you want to learn to play the piano for pursuing a career in music, or simply for pleasure, join us at one of Sydney suburbs in Strathfield, Strathfield South, Summer Hill, Sydenham, Tempe, and Wareemba. You can also take lessons from our professional piano teachers at your own home.
Additional Support – Concerts, Exams and Scholarship
The European Academy organises an annual concert where most of our students are given the opportunity to perform. Held in a professional concert auditorium, performing in the concert provides the students the experience of performing in front of a live audience. This encourages and motivates them to pursue a career as a pianist and the valuable feedback of their concert helps them to improve their skills. To watch our students perform, click here.
We always encourage our students availing piano lessons in Strathfield South, Summer Hill, Sydenham, Tempe, and Wareemba to actively develop all their piano skills. Our students receive complete support from us in preparing for various examinations like AmusA, LmusA, Certificate of Performance, AMEB Grade 1-8 and Various High School examinations. We also offer support to the students who wish to be a part of scholarship programs.
Our students are always taught to love music and embrace its different genres. We persuade our students to listen to CDs and watch videos of eminent pianists as these help in developing the 'inner' ear and develop an understating of the different genres of music.
Free Introductory Class
The European Piano Academy offers a free introductory class to all newcomers at Strathfield, Strathfield South, Summer Hill, Sydenham, Tempe, and Wareemba. This class acts as an icebreaker and helps our teachers to evaluate the existing skills and the needs of the student. Based on the existing skill set of the student, the teacher devises a lesson plan focusing on the strengths and weaknesses of the student.
To book a Free Introductory Class at these suburbs of Sydney: Strathfield, Strathfield South, Summer Hill, Sydenham, Tempe, and Wareemba,
Please call us on 0415 479 996.
You can also email us at: [email protected]
Or, enrol online.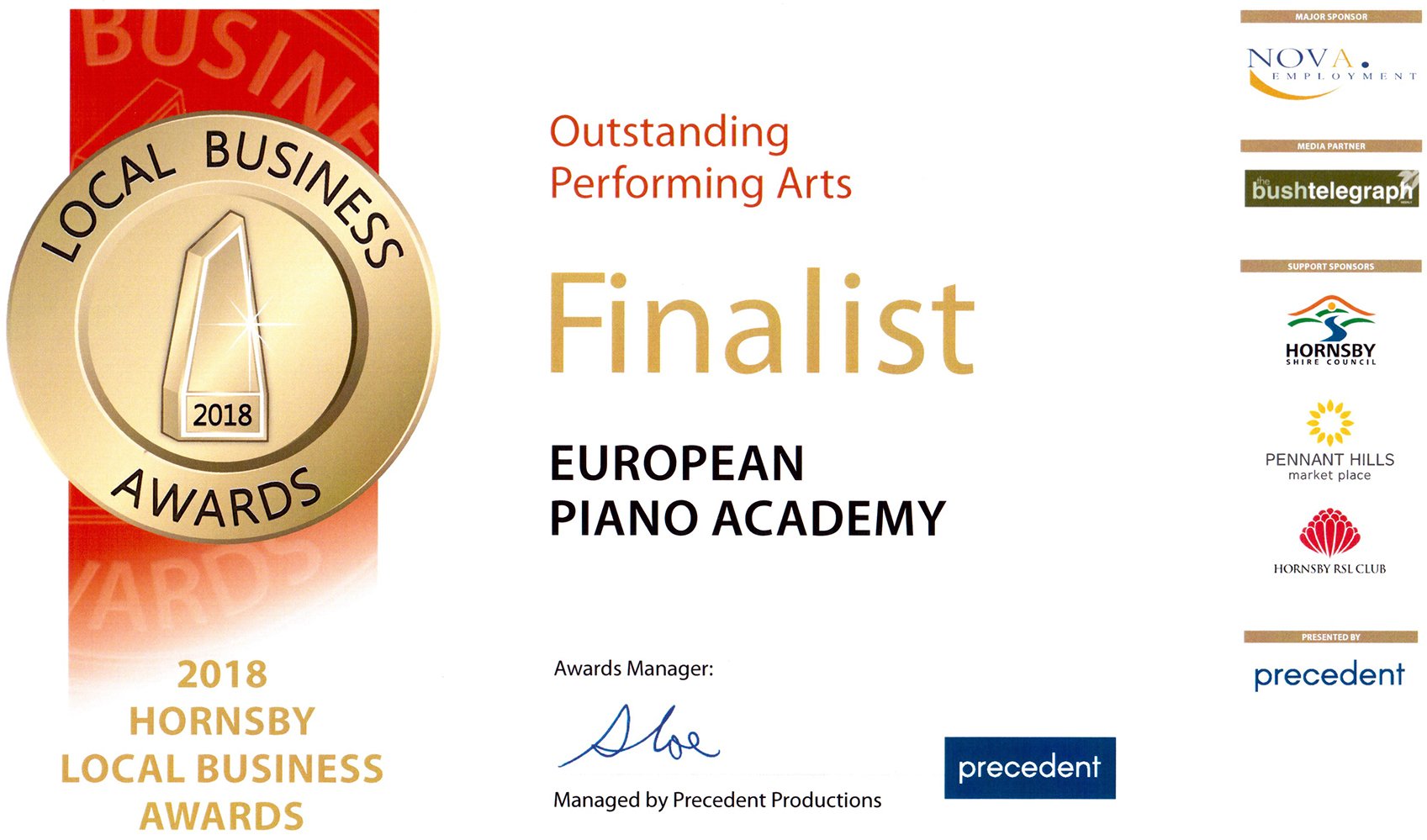 Our 2018 Outstanding Performing Arts Award

2020 Best Piano School – Eastern Australian States – Australian Enterprise Awards
See Illya Zozulya performing F. Chopin's Ballade No.1
See Illya Zozulya aged 15 performing Rachmaninov's piano concerto No.1